We Work @
$ 10.00 /hr Custom Hybrid App Development Company Creating Cross-Platform Apps for your Business
What's most important when creating Hybrid applications is to develop sure that the app looks interesting on each platform and functions the same way. This is precisely where we create the real distinction count by choosing the finest modern technology stack for Hybrid application development.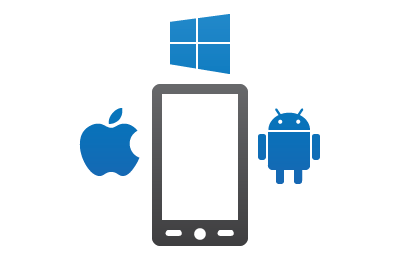 Hybrid Application Development for your Desires
In addition to with the visual appeal of several mobile phone devices and multiple mobile phone platforms, we've gained specialization in creating multi-platform app development services for both of these of these Android and iOS devices in the costs of exactly one codebase and utilizing the specific similar IDE, language, and APIs.
Cordova
Social Media Integration
Integration with credit card readers, printers, speakers, TV and other devices with NFC, Bluetooth and IR
React Native
SMS gateway
Conferencing, Messaging & Collaboration with Twilio API
Phonegap
Ionic
Security
Our companies are greatly expertise in providing Hybrid applications
Our company builds strongly useful and well-defined hybrid applications that are suitable for all the devices and work efficiently on almost all platforms. Keep your time and resources by developing cross-platform apps with our warranted technique.
Our company does work on tools such as Titanium, Intel XDK and we even use computer programming languages this kind of as Ruby, Objective C, HTML5, C++, and many more. Developing hybrid apps along with full control and versatility. Our company has built a good reputation in IT industry by enhancing the optimal results depending on to the customer's necessity.
Different platform extends range to wider set of target audience
Our companies are having huge experience in working with various cross-platform Ionic development works. Our programmers are really very a lot skilled as well as have all of the know-how of Ionic platform. With the Ionic Framework, you can get a highly functional user program for your cross-platform applications. Ionic known the capability to provide the most recommended functions and properties in the cross-platform application development procedure. Our application development professionals are well-trained to deliver the best class cross-platform applications with the Ionic platform. Are really you searching for Ionic cross-platform development? Cqlsys will provide you the finest solutions.
Look Something from our Beautiful work
TOGO
SIKIL is a quick and improved way to share contact
TAXi LIVE
SIKIL is a quick and improved way to share contact
OMORNI
SIKIL is a quick and improved way to share contact
INSURER
SIKIL is a quick and improved way to share contact
CHARLA
SIKIL is a quick and improved way to share contact
CARBOOK
SIKIL is a quick and improved way to share contact
Hybrid App Development Services
Our skilled cross-platform application programmers and Online sales administrators get several conversations to drive home all your smartphone requirements. Additionally, our team have the remarkable performance history in term of client's complete satisfaction as a hybrid application development agency.
The Cqlsys is offering its own hybrid app development services to even more than 15 countries. We are providing customer-centric solutions along with a huge expertise in hybrid applications. Our company of professionals is qualified enough to balance the power of HTML5 development along with the brand-new mobile gadget frameworks for developing exquisite, megalith and economical hybrid applications on all top mobile platforms including iOS and Android.
Our
clients

are amazing!
We love to hear what they

say about our services.
Sheldon Powell
CEO & Founder, Billionaire League.
Cyrus Rafizadeh
CEO & Co-Founder